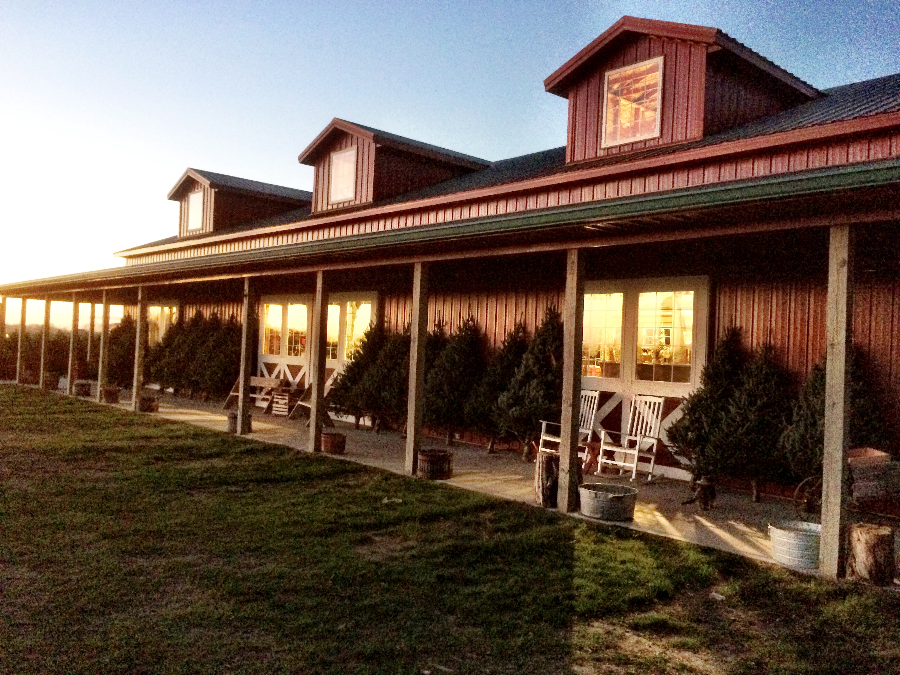 Best Pumpkin Patches of Iowa 2021
Harvestville Farm
Harvestville Farm is a fifth-generation farm located in the heart of farm country in rural Southeast Iowa.
Throughout the spring and summer months, the farm features a variety of items ranging from plants, annuals, seeds, fresh garden veggies, local fruits, home and garden décor and hosts a farm-to-table dinner series. New in 2020 will be our biggest sunflower festival to date that will featured over 10 acres of sunflowers to wander through, take that perfect picture and pick your own.
In September and October, 40 acres of pumpkins, squash and gourds turn the farm into a harvest haven along with two large play areas for families of all ages to enjoy, a 10-acre corn maze, wagon rides and special fall events.
In November, explore a winter wonderland that features fresh-cut trees, wreaths, roping, gift items and arrangements up until the Christmas holiday.
Throughout the year, Harvestville Farm serves fresh baked breads, cookies and cobblers, along with a variety of soups, salads, paninis, sandwiches and flatbread pizzas in The Pitchfork Café.
---
Hours of Operation: April – December Monday:–Tuesday: 10:00 AM – 5:00 PM Wednesday: 10:00 AM – 5:00 PM Thursday: 10:00 AM – 5:00 PM Friday: 10:00 AM – 5:00 PM Saturday: 10:00 AM – 5:00 PM Sunday: 11:00 AM – 4:00 PM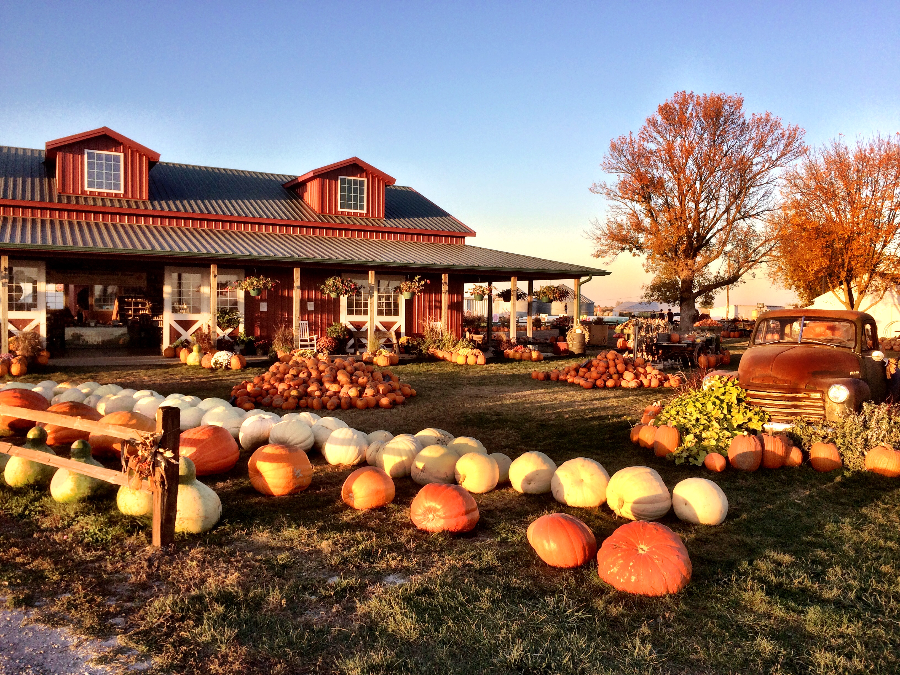 Colony Pumpkin Patch
Blooming and Buzzing flowers are a welcome sight in late summer in our PYO Sunflower fields in late August, then the Pick-your-own pumpkin patch opens daily in mid-September through October. There are over ten acres of pumpkins, gourds and squash to choose from, as well as fall decor, 9+ acre corn maze and growing kid's playground!
Our Annual fall festival featuring food, fun and local businesses is typically the first weekend in October.
Please visit our website and Facebook page for details, updates, upcoming events and weather related cancelations. And sign up for our e-newsletter for behind-the-scenes sneak peaks, updates and coupons.
Accessible to Persons with Disabilities
Pets Allowed
Admission Fee
---
Hours of Operation: Late August – Oct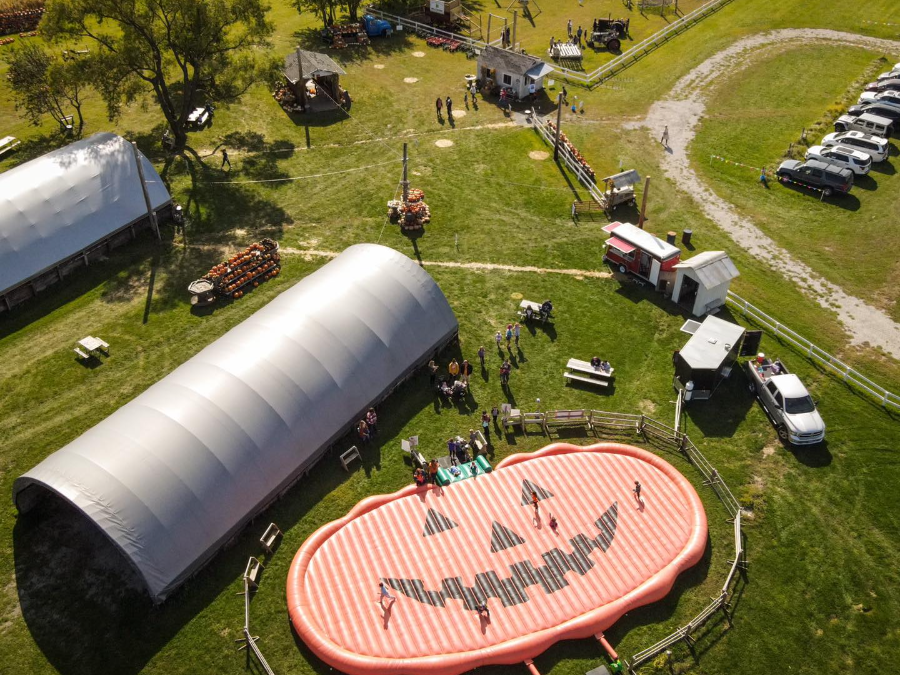 Pinter's Gardens and Pumpkins
Garden center offering annuals, perennials, outdoor decor, landscaping displays and gift shop. Visit the pumpkin patch, corn maze, jumping pillow and vast outdoor playground in the fall. (Fall activities has a admission) Visit our website for prices. www.pintersgardensandpumpkins.com
Homemade fudge and cupcakes at the bakery.
Check out the candy store in downtown Decorah, at 107 W Water St.
Accessible to Persons with Disabilities
Free Public Internet Access
---
Hours of Operation: Open Year-round Monday: Closed Tuesday: 9:00 AM – 5:30 PM Wednesday: 9:00 AM – 5:30 PM Thursday: 9:00 AM – 5:30 PM Friday: 9:00 AM – 5:30 PM Saturday: 9:00 AM – 5:30 PM Sunday: 10:00 AM – 4:00 PM
Uncle Bill's Farm
Venue for weddings, reunions, parties and more from April through August. Rare poultry sales March through October (specializing in high quality, silkies, imported German Deathlayers, Polish bantam, large fowl Cochin, bantam Cochin and more). Chicks and fertile eggs available. Pumpkin season mid-September through October.
Admission during pumpkin season includes all attractions such as hay rack rides to the field, jumping pillows, corn pool, playground, trike area, farm animal zoo, corn maze, indoor bee hive, weekend kiddie rides, professional shows in the barn loft auditorium and so much more. Pumpkins sold by the pound. Indoor restrooms, State inspected and licensed restaurant and a gift shop with locally made foods, produce, flowers, crafts and children's books.
Accessible to Persons with Disabilities
Free Public Internet Access
Admission Fee
---
Hours of Operation: March-Oct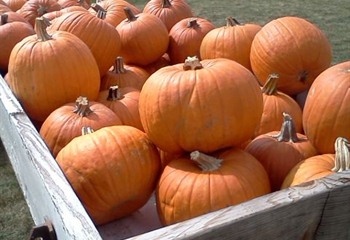 Bloomsbury Farm
Seasonal festivals, corporate events, school tours, haunted house, and more! Check out BloomsburyFarm.com to learn more about festival dates and special events.
Accessible to Persons with Disabilities
Admission Fee
---
Hours of Operation: Seasonally May through October